Cane Rosso
Richard Jerrier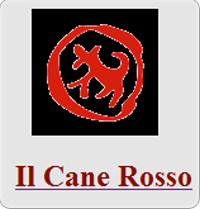 INFO
Member number:
354
Member since:
16/05/2011
Address:
2612 Commerce St
Zip code:
75226
Town':
Dallas
Region:
Texas
State:
USA
Continent:
America
Phone:
+12147481188
E-mail:
jjerrier@ilcanerosso.com
Web site:
www.ilcanerosso.com
ABOUT US
Il Cane Rosso: on a mission to bring authentic Neapolitan pizza to Dallas!
Our pizza is thin crust–but it is most certainly not "NY Style". You won't find huge "crispy" slices overloaded with salt, oregano, and low quality toppings. You also won't find a "meat lovers", a "supreme", or a side of ranch dressing to dip your crust.
What you will find is authentic Neapolitan pizza made according to the strict guidelines of the Associazone Verace Pizza Napoletana-the official quality control watchdogs of true pizza. So what's the big deal about Neapolitan Pizza?
Our dough is made in-house, never frozen, from imported, all natural "Double Zero" Italian flour. The flour is not enriched, bleached or bromated-simply wheat berries ground by stone. The recipe is centuries old and is made only with flour, water, sea salt, and natural yeast. We ferment the dough at low temperatures for 24-48 hours to give it a yeasty flavor, crunchy exterior and delicate, chewy interior.
The Pizza Oven-Fired up and ready to go Our tomato sauce is made daily from hand-crushed San Marzano tomatoes-crushing them by hand ensures we don't break any of the seeds and make the sauce bitter. San Marzano is not a label or a brand, but a specific type of tomato grown in limited quantities and harvested by hand in San Marzano, Italy-a small town near Mt. Vesuvius and just south of Naples. They have a naturally sweet, tangy, perfectly balanced flavor because the rich volcanic soil acts as a filter for impurities.
Our mozzarella, or fior di latte, is hand-pulled in house daily from fresh mozzarella curd. This mildly flavored cheese is able to withstand the 900 degree temperatures in our wood-fired oven without drying out. You will not find part-skim, low moisture mozzarella on any of our pizzas.
Our cured meats are imported from Salumeria Biellese in New York. Making sausages and salamis since 1925 with only certified Berkshire pork and without artificial colors or flavors, Salumeria Biellese has a simple philosophy-artisinal salumi takes time. All of our sausage comes from Jimmy's in East Dallas-we pick it up several times a week to ensure it is fresh ground.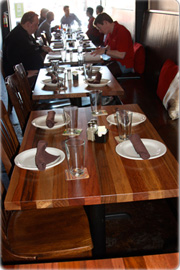 CONTACT US
Our contact details:
Phone: +12147481188

E-mail: jjerrier@ilcanerosso.com
Web site: www.ilcanerosso.com


LOCATION
Address: 2612 Commerce St
Zip code: 75226
Town': Dallas
Region: Texas
State: USA
Continent: America

Clicca qui per ingrandire la mappa

PHOTO

VIDEO

FACEBOOK