Mozzeria
Hapa & Stein Inc.

INFO
Member number:
483
Member since:
06/03/2014
Address:
3228 16th Street
Zip code:
94103
Town':
San Francisco
Region:
California
State:
USA
Continent:
America
Phone:
+14154890963
E-mail:
info@mozzeria.com
Web site:
www.mozzeria.com
ABOUT US
Located in the Mission, San Francisco, Mozzeria offers an unique dining experience.
Experience sumptuous pizzas cooked in our beautiful oven imported from Naples . Choose from a menu of either traditional or imaginative pizzas.
Open since December 2011, the décor of this lively hangout is decidedly modern, with the wood-burning oven in the center, commanding attention. You get to watch as your pizza is prepared and cooked.
Mozzeria's menu also includes pastas and small dishes with fresh ingredients usually sourced from community farmers markets. A wine bar, local beers on tap, vintage sodas and desserts assure an enjoyable dining experience.
A dining experience, unlike any other... we look forward to having you dine with us.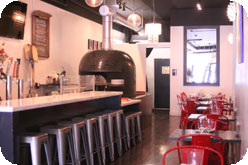 CONTACT US
Our contact details:
Phone: +14154890963

E-mail: info@mozzeria.com
Web site: www.mozzeria.com


LOCATION
Address: 3228 16th Street
Zip code: 94103
Town': San Francisco
Region: California
State: USA
Continent: America


PHOTO

FACEBOOK