Racca's
Mark Dym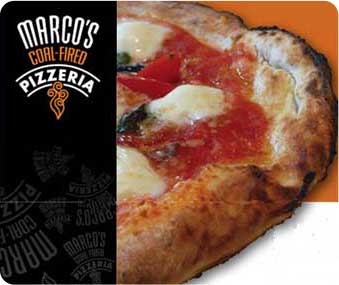 INFO
Member number:
285
Member since:
19/09/2008
Address:
2129 Larimer Street
Zip code:
80205
Town':
Denver
Region:
Colorado
State:
Usa
Continent:
America
Phone:
0013032967000
Fax:
0013032939999
E-mail:
markdym@gmail.com
Web site:
www.raccaspizzeria.com
ABOUT US
We know from experience that there is nothing more satisfaying that that first bite of truly great pizza: the crunch and chew of the perfect crust, the sweetness of the sauce, the earthy aromas of the basil and thesalty taste of the fresh mozzarella that lingers for just on your tongue.
At Marco's we want to bring that feeeling to you, which is why we've worked hard to bring you the best ingredients, like Antico Mulino Caputo flowers, San Marzano tomatoes from Italy and the freshest locally grown produce. Our pizzamaker are trained and certified from the Associazione Verace Pizza Napoletana and our pizzeria is certified from AVPN Usa Delagation too, and we bake our pizzas in handmade brick ovens from Naples.
For us, the reward is in results. Taste our efforts al fresco on our patio, and see if we don't have you dreaming of Naepolitan nights: neither Passaport nor Visa required!

CONTACT US
Our contact details:
Phone: 0013032967000
Fax: 0013032939999
E-mail: markdym@gmail.com
Web site: www.raccaspizzeria.com


LOCATION
Address: 2129 Larimer Street
Zip code: 80205
Town': Denver
Region: Colorado
State: Usa
Continent: America

Visualizzazione ingrandita della mappa

PHOTO

FACEBOOK