TRAINING
Training courses for trained or trainees pizza-makers
INFO
TRAINING VERA PIZZA

The intensive training is oriented towards people who want to learn the Neapolitan technique of making pizza.

Duration Training: 60 HOURS, divided in:

- 42 hours of Laboratory-School
- 13 hours of Theory
- 5 hours of Professional stage at AVPN certified pizzerias

N. of partecipants: min 4/max 10;
Duration: 9 DAYS (Mon, Tue, Wed, Thu, Fri, Sat, Mon, Tue, Wed);
School Location: Associazione Verace Pizza Napoletana - Via Capodimonte, 19/A, 80131 Naples
Professional Stage: in one of well-known Neapolitan pizzerias according to the schedule.
Final Exam: Wednesday afternoon
AVPN Work uniform: 4 t-shirts, 2 pants, 2 neckerchieves, 2 aprons, 2 hats, 1 back-pack, 1 handbook;
Training Costs: € 1.750,00 (taxes and HACCP Certification included)* for the basic course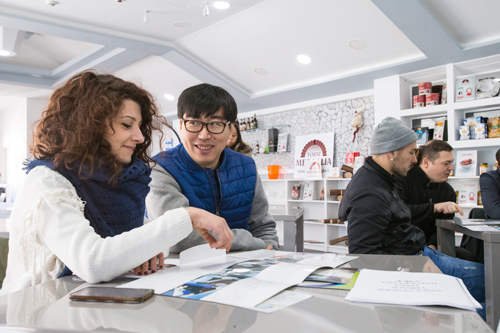 More infos at: formazione@pizzanapoletana.org
EXTRA TRAINING
The Extra Training is oriented towards people who attended our Training Vera Pizza or who want to improve the Neapolitan technique of making pizza.

Duration Extra Training 42 HOURS of Laboratory-School
N. of participants: min 2/max 10;
Duration: 7 DAYS (Thu, Fri, Mon, Tue, Wed, Thu, Fri);
School Location: Associazione Verace Pizza Napoletana - Via Capodimonte, 19/A, 80131 Naples
Extra Training Cost: € 750,00 (taxes included)*

(*)*The costs of accommodation, food and transfer are not included.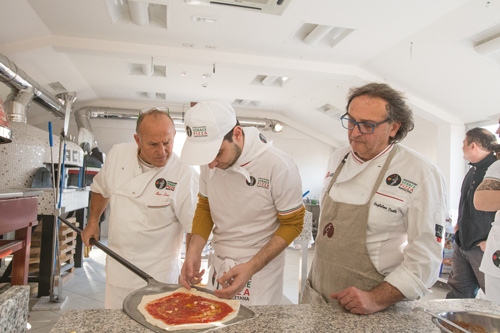 COURSE LOCATION
Location: via Capodimonte, 19 - Napoli (Na)

Clicca qui per ingrandire la mappa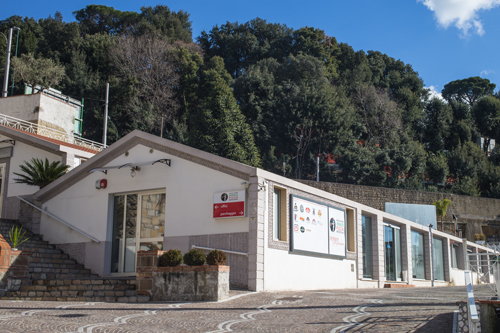 OPTIONAL
Translator (for school lessons only): € 300,00 (taxes included)
- EXTRA STAGE, another Week of practice at AVPN pizzeria (Mon - Fri):
€ 400,00 (taxes included)

For additional weeks, please contact AVPN or write an email to formazione@pizzanapoletana.org
- Costs of the room inside AVPN Campus - Via Capodimonte, 19/A, 80131 Naples
Single Room € 50,00 for night
Double Room € 65,00 for night

TEACHING PLAN
The purpose of this Training is to give the essential notions to start a qualified working activity and learning the Neapolitan technique.
The Training lasts 60 hours and is organized as follows:

a) Theory (13 hours)

Historical background and introduction of Neapolitan pizza

Different methods of leavening, maturation, and fermentation of pizza dough.

A study about main ingredients of Neapolitan pizza: water, flour, yeast, salt, tomato, mozzarella and extra virgin olive oil.

Baking and building techniques of wood and gas oven.

b) Laboratory-School (42 hours): All the practical lessons will be held by an expert AVPN's pizza maker, in the new laboratory of Capodimonte equipped with 3 wood ovens, 2 gas ovens and other modern equipment. Training program is organized as follows:


Preparation of pizza dough with hands and kneader;

Mold preparation;

Pizza dough's handling and its condiment;

Oven functions: ignition, use of baker's shoved and baking techniques;

Learning how to bake according to preferable temperature;

Baking's difference with various temperature and result's analysis;

Cleaning tools.

c) Professional Stage (5 hours): A professional stage is provided among important pizzeria certificated by AVPN. This stage is necessary in order to acquire a direct experience with customers and work-related problems. Stage will be on Saturday from 10,00 to 15,00. Applicants will be identified by an uniform and badge with the logo of the Association.
Applicants will observe the pizza maker during his daily job, and will have the opportunity to ask questions about productive and handling process, ingredients and baking.

d) Certificate of attendance and final exam
At the end of the course will be given a certificate of attendance which attest the participation of the intensive training lasted 60hours about real Neapolitan pizza. The certificate is private and include the score obtained in the final exam taken by applicants. Final exam consists of a practical-theoretical test about the preparation of the two Neapolitan pizza: margherita and marinara.
EXTRA STAGE (optional)
Prior agreement with AVPN and the pizzeria additional practical weeks can be organized. During those additional weeks applicants will learn the phases of production and making, will assist the main pizza maker during his work. Each extra week starts on Monday and ends on Friday. Applicants can choose to participate in the morning, in the evening, or both (according with pizzaiolo).
EXTRA TRAINING (optional)
The 7 days of additional Training will be entirely dedicated to other types of pizzas and calzone (folded pizza). Students will learn how to prepare the ingredients and how to manage different methods of baking. The additional course will take place only with the minimum number of 2 participants.
"PIZZAIOLO MAESTRO" TEACHERS (random order)
Pizzeria:
Qualification: Pizzaiolo Maestro
Signup date: 09/02/2011
Pizzeria:
Qualification: Pizzaiolo Maestro
Signup date: 14/02/2011
Pizzeria:
VPN Americas LLC
Qualification:
Pizzaiolo Maestro
Signup date:
14/02/2011
Pizzeria:
Qualification: Pizzaiolo Maestro
Signup date: 14/02/2011
TEACHERS (random order)
Pizzeria:
Qualification: Pizzaiolo Verace
Signup date: 16/02/2011

Pizzeria:
Qualification: Pizzaiolo Verace Senior
Signup date: 14/02/2011

Pizzeria:
Qualification: Pizzaiolo Verace Senior
Signup date: 10/02/2011

Pizzeria:
Qualification: Pizzaiolo Verace Senior
Signup date: 14/02/2011

Pizzeria:
Qualification: Pizzaiolo Verace
Signup date: 26/02/2014

Pizzeria:
Qualification: Pizzaiolo Verace
Signup date: 02/05/2011

Pizzeria:
Qualification: Pizzaiolo Verace
Signup date: 06/04/2011

Pizzeria:
Qualification: Pizzaiolo Verace Senior
Signup date: 14/02/2011

Pizzeria:
Qualification: Pizzaiolo Verace
Signup date: 21/04/2015

Pizzeria:
Qualification: Pizzaiolo Verace Senior
Signup date: 14/02/2011

Pizzeria:
Qualification: Pizzaiolo Verace Senior
Signup date: 16/02/2011

Pizzeria:
Qualification: Pizzaiolo Verace Senior
Signup date: 14/02/2011

Pizzeria:
Qualification: Pizzaiolo Verace
Signup date: 15/02/2011

Pizzeria:
Qualification: Pizzaiolo Verace Senior
Signup date: 04/10/2012

Pizzeria:
Qualification: Pizzaiolo Verace
Signup date: 16/12/2013

Pizzeria:
Qualification: Pizzaiolo Verace Senior
Signup date: 16/05/2011

Pizzeria:
Qualification: Pizzaiolo Verace Senior
Signup date: 16/02/2011

Pizzeria:
Qualification: Pizzaiolo Verace Senior
Signup date: 14/02/2011

Pizzeria:
Qualification: Pizzaiolo Verace Senior
Signup date: 28/02/2011