TRUE NEAPOLITAN PIZZA FRIENDS
The esclusive club dedicated to the supporters of "true Neapolitan pizza"
Friends of Vera Pizza benefits
The Club Member will receive:
The Card "True Neapolitan Pizza friends";
Decalogue and AVPN Regulations;
AVPN Friend of True Neapolitan Pizza T-shirt;
AVPN Friend of True Neapolitan Pizza Apron;
AVPN Newsletter;
discounts on gadgets and national and international initiatives;
a welcome gift.
The annual membership fee is € 25.00.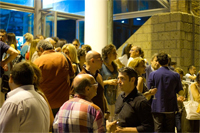 What is the Friends Club?
The Friends Club is an international community of people who love the "True Neapolitan Pizza", it's open to consumers, pizza makers, producers, journalists and experts in the field of food and wine. But not only. Doors will be opened to those who want to know more about our world and those who are fond of good food, to those who want to explore more closely the products, processes and manufacturing techniques of this exceptional dish, to those who are not satisfied with a good pizza but that always want to taste a better one, to the ones who want to learn to cook a "True Neapolitan Pizza".
To the friends of the True Neapolitan Pizza around the world
In 1984, along with a group of willing friends, who represent some of the oldest families of pizza makers and the most famous Neapolitan pizzerias, we set up the True Neapolitan Pizza Association, and we made a notary to record our first protocol. We established few simple rules that we agreed to respect, well aware that the Neapolitan pizza has no inventors, no fathers, no owners, but is just the result of the genius of the people of Naples.
You joined the Club of True Neapolitan pizza Friends?
Then promise to:
1) accept the principle that "the Neapolitan pizza has not inventors, no fathers, no owners, but is the result of the genius of the Neapolitan people";
2) read and share the Decalogue to recognize the true Neapolitan pizza and the International Regulations of the True Neapolitan Pizza Association;
3) contribute to support, to defend and spread, in Italy and throughout the world, the "culture" of True Neapolitan pizza;