Pizzeria Napulè
Al Pachino, LLC
INFO
Member number:
266
Member since:
14/02/2008
Address:
Via Mechnikova, 9
Zip code:
01133
Town':
Kiev
State:
Ucraina
Continent:
Europa
Phone:
+380444959263
Fax:
+380444959263
E-mail:
napule_pr@ukr.net
Web site:
www.napule.com.ua/en/
ABOUT US
The fatherland of pizza is Naples, the most Italian city of Italy. The keys for making a true Neapolitan pizza are: to use a proper flour, yeast, salt and water (no fat, no oil!); to roll out "the pie" by hands only (no rolling pins!); to bake it in a wood-burning oven, on its immediate bottom (no frying pans!); to bake it through but not to dry it out (cooking time is 60-90 seconds). Fairly simple, eh?! One more thing: pizza lives at most 15-20 minutes, that's why "delivery" - only to your table in pizzeria.
Our pizzaiolo comes from Naples (signor Giuseppe Irollo, aka Peppe); our wood stove is built by a Neapolitan master (signor Stefano Ferrara) from proper Neapolitan materials (tufa stone and refractory bricks); our choice of flour is Caputo Rosso 00 from Naples. We cook about 20 kinds of pizza. Besides pizza you may enjoy a Neapolitan cuisine from Adelaide Zazzaro (Peppe's fiancee).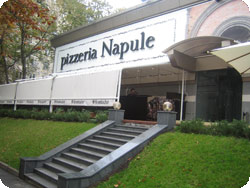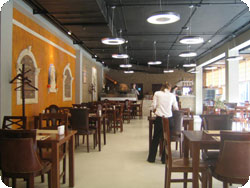 CONTACT US
Our contact details:
Phone: +380444959263
Fax: +380444959263
E-mail: napule_pr@ukr.net
Web site: www.napule.com.ua/en/


LOCATION
Address: Via Mechnikova, 9
Zip code: 01133
Town': Kiev
State: Ucraina
Continent: Europa

Visualizzazione ingrandita della mappa

PHOTO

FACEBOOK